Product features and uses
The insulation and sheath materials used for the high-voltage cable for silicone rubber insulation are imported. The imported silicone rubber and other materials have excellent resistance to high and low temperature, corrosion, acid and alkali, oil resistance and high pressure resistance. . The cable has good flexibility, wear resistance and tear strength, especially suitable for metallurgy, electric power, port and other industries that need to be moved and used. The cable can be used as special requirements for movement, tensile and heat resistance. The power transmission line of transmission machinery and equipment, this product won the national patent certificate in 2000, can replace the similar imported cable, the user reflects the good use effect.
The mobile high-voltage cable meets the requirements of the Ministry of Transport's "Technical Guide for the Construction of Offshore Power Facilities of River Trade Terminals", which is resistant to oil, flame, water, abrasion and flexibility of the power supply cable, and can be used for long-term winding on the cable reel. .
Product performance standards
Q/HHTZH007
Use characteristics
1、AC rated voltage: 3.6/6kV、6/10kV、 8.7/10kV、 8.7/15kV、26/35kV,Maximum operating temperature of the conductor: 180℃,Minimum ambient temperature:-40℃, Customizable for temperature requirements。
2、Cable installation temperature should not be lower than-15C。
Basic model and name
model

product name

High voltage flat cable

YJGCFPB

Imported silicone rubber insulated synthetic rubber sheathed phase-shielded shielded high-voltage flat cable for mobile

High voltage round cable

YJGCFP

Imported silicone rubber insulated synthetic rubber sheathed phase-shielded shielded high-voltage round cable for movement
Remark: The copper wire in the conductor core is tinned and can be added to the steel core as needed.
V. Main technical indicators
1、Finished cable conductor (R type) DC resistance (in accordance with GB3956)
| | |
| --- | --- |
| Nominal cross section | 20℃DC Resistance≤Ω/km |
| 16 | 1.24 |
| 25 | 0.795 |
| 35 | 0.565 |
| 50 | 0.393 |
| 70 | 0.277 |
2、20℃When the insulation resistance is not less than500MΩ·kM.
3、The finished cable is subjected to the following voltage test without breakdown.
Schematic
YJGCFPBSchematic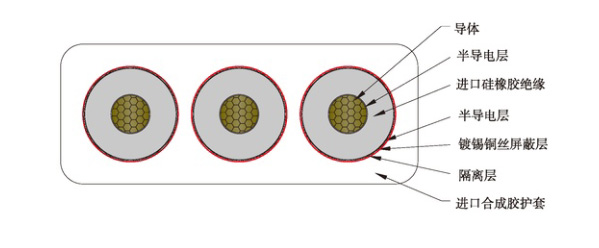 YJGCFPBSchematic

YJGCFPSchematic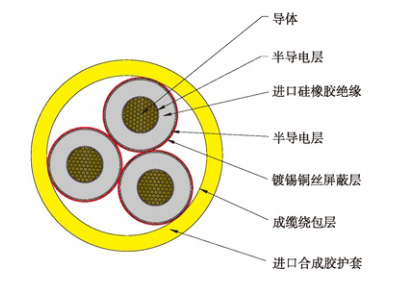 YJGCFPSchematic