use
This product is suitable for AC rated voltage of 750V and below. The distribution system, control system and signal system of various rolling stock and urban rail metro vehicles are especially suitable for use in small spaces and other electrical equipment with flame retardant requirements.
Conditions of Use
Cable rated working voltage U0/U: 450/750V;
The long-term allowable operating temperature of the cable should not exceed 125°C.
Model and name introduction
| | | |
| --- | --- | --- |
| model | Rated voltage | product name |
| WDZ-DC/Ⅲ-125 | 750V | Low-smoke, halogen-free, thin-wall insulation, resistant to mineral oil and fuel oil, temperature-resistant 125°C, 750V cable |
| WDZ-DC-B- ZP-H/Ⅰ-125 | 750V | Low-smoke, halogen-free, flame-retardant, thin-walled insulation, total screen, standard thickness sheath, temperature-resistant 125°C, 750V cable |
Code meaning
| | |
| --- | --- |
| Code | Code meaning |
| WDZ | Halogen-free low smoke flame retardant |
| DC | Product serial number |
| ZP | Total shielding |
| H | jacket |
| Ⅰ | Installed in mineral-free and fuel-oil contaminated areas |
| Ⅲ | Installed in contaminated mineral oil fuel oil (mineral oil and fuel oil) |
| 125 | 125℃ |
Product performance standards
TB/T1484-2010 Q/HHTZH009-2012
Main Specifications
Cable transmittance:≥80% PH value:≥4.3
Conductivity: ≤10μs/mm Halogen content: hydrogen chloride release≤0.5%
Toxicity index:≤5 Vertical burning performance of single cable: in accordance withGB/T18380.12
Burning performance of bundled cable: Class C in accordance with GB/T1838035-2008
Product structure diagram
WDZ-DC/Ⅲ-125 750V 0.5mm² Schematic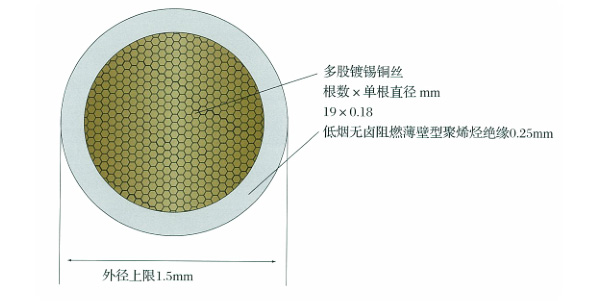 WDZ-DC-ZP-H/I-125 750V 10x1.5mm² Schematic